Na 'n dag van geweld en brandstigting en 'n rustelose nag, met vrese dat die polisie nie die situasie kan beheer nie, is Kleinmond vandag 'n spookdorp.
Skole en besighede is gesluit en verkeer het tot stilstand gekom. Die inwoners van dié vreedsame Overbergse dorpie is vir alle praktiese doeleindes gyselaars in hulle eie huise.
Die geweld en opstandigheid duur al vir dae lank omdat 'n plaaslike kontrakteur nie weer 'n Munisipale tender vir skoonmaakdienste gekry het, nadat hy in die verlede nie die werk na wense gedoen het nie. Die nuwe tender is aan 'n kontrakteur van Hermanus toegeken.
Waarmee ons dus inderdaad hier handel is wetsgehoorsame burgers, sakemense en skoolgaande kinders wie se lewens ontwrig, en selfs bedreig word, omdat standaard prosedures volgens wet gevolg word.
En tot op hede was daar nog geen teken van die Wes-Kaapse Premier, Helen Zille, of enige verteenwoordiger van die Distriksmunispaliteit of regerinsgdeparterment gemoeid met plaaslike regering nie. Beide die ANC en die DA laat eenvoudig Kleinmond se inwoners aan die genade van 'n groep opstandige terroriste oor.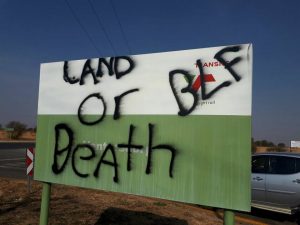 ---