THE RIGHT AND POSSIBILITY OF SECESSION FOR THE CAPE REPUBLIC.
Chapter 14 section 235 of the Constitution states as follows.
SELF-DETERMINATION.
235. The right of the South African people as a whole to self-determination, as manifested in this Constitution, does not preclude, within the framework of this right, recognition of the notion of the right of self-determination of any community sharing a common cultural and language heritage, within a territorial entity in the Republic or in any other way, determined by national legislation.
FURTHERMORE International law abandons in favour of Secession to self-determination.
There is no prohibition on Secession in South African law neither is there any prohibition on Secession in terms of International law.
In fact there is overwhelming evidence to the contrary, that Secession is legal here in South-Africa and internationally.
State sovereignty and the Constitutional right of Secession had flourished internationally for hundreds of years.
THERE IS NO QUESTION OF SECESSION BEING POSSIBLE FOR THE CAPE REPUBLIC.
Secession is not only possible, but necessary and its achievement is URGENTLY required before the ANC, EFF and the new DA destroys the Cape along with the rest of South Africa.
THERE IS CURRENTLY HUNDREDS OF ACTIVE SECESSION SEPARATIST MOVEMENTS ALL OVER THE WORLD.
Here are a few well known examples of countries that are in the process of Secession from their current government;
Scotland (from the United Kingdom)
Venice (from Italy)
Catalonia (from Spain)
Quebec (from Canada)
Transnistria (from Moldova)
South Island (from New Zealand)
Texas (From the USA)
Cape Republic (from South –Africa)
HERE ARE A FEW WELL KNOWN EXAMPLES OF COUNTRIES THAT HAVE FLOURISHED AFTER SECESSION FROM THEIR PREVIOUS GOVERNMENT;
Australia from United Kingdom
Austria successfully seceded from Nazi Germany on April 27, 1945.
Belgian from the Netherlands
Brazil from Portugal
United States from United Kingdom
Ireland declared independence from United Kingdom in 1916
Eleven former Republics of the Soviet Union are now independent countries.
Texas seceded from Mexico in 1836
Pakistan seceded from India
Finland successfully and peacefully seceded from the Russian Soviet Federative Socialist Republic in 1917
Singapore gained independence as the Republic of Singapore (remaining within the Commonwealth of Nations) on 9 August 1965
Singapore for example has since Secession became a global commerce, finance and transport hub Singapore has significant influence on global affairs relative to its size, it is ranked as Asia's most influential city and 4th in the world by Forbes.
Facts are that the ANC and EFF with their policies on racism and communism are well on their way to destroying South- Africa and we as normal sane, reasonable, constructive and thinking people cannot reconcile with this.
Facts are that the DA is so blinded in its vain attempt to grip power that it has also became a cheap party built on racism that is willing to do anything for control and it no longer represents the people of the Cape. We as normal sane and reasonable, constructive and thinking people cannot reconcile with this.
Facts are that we are doomed with the DA no matter which way it goes, should they gain National power then they have to alienate the people of the Cape in order to accommodate the rest of the South Africans, If they don't gain National power they will push even harder for it which means they will get even more cheap for votes and they will sacrifice us even more aggressively in order to win favour with the rest of the South Africans.
THE NORMAL LOGICAL AND REASONABLE THING TO DO WHEN A RELATIONSHIP HAS BROKEN DOWN IRRETRIEVABLY IS TO SEPARATE BEFORE THE RELATIONSHIP TURNS DESTRUCTIVE.
Soon with your vote the Cape Republic will accomplish secession peacefully and legitimately from just another failing African country called South Africa to flourish as a first-world capitalist non-racial, free, democratic state operating under the rule of Law with no laws or policies that discriminate against any one of its citizens.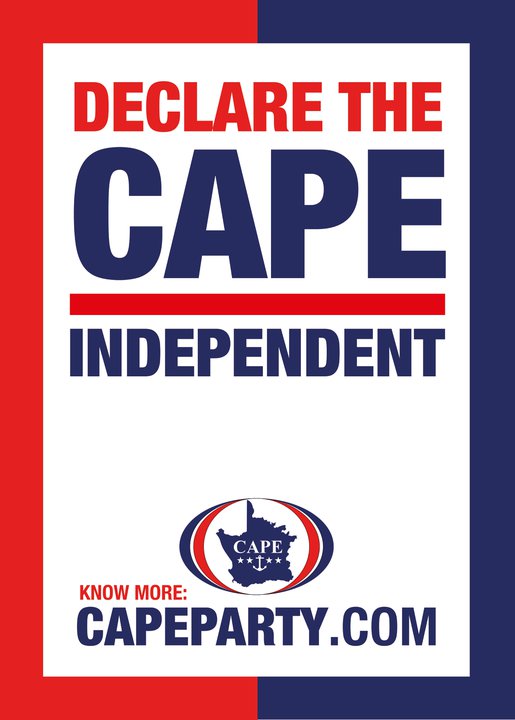 ---